If you're an advocate for all things health and wellness, chances are you scrolled upon the trail-blazing plant based meal delivery service, Sakara Life. Founded by best friends Danielle Dubois and Whitney Tingle, this innovative health concept has proven to take their ever-growing clientele by storm; with A-listers such as Hilary Duff, Gwyneth Paltrow and the Hadid sisters all wanting a slice of the (raw/gluten free/vegan) Sakara pie.
Born out of the health struggles both women were facing whilst leading their separate lives in New York, it was only when Danielle and Whitney started to prioritise a more plant-rich diet that they saw a real turning point in how they felt. After months of extensive research and late-night planning, they were finally able to ditch their stressful day jobs to launch a business they felt truly passionate about.
Enter, Sakara Life – a health food service that does far more than just look pretty on the 'gram. With a speciality in delivering fresh, organic and perfectly portioned meals to homes or offices, Sakara Life has helped countless customers feel their best – even while leading hectic on-the-go lifestyles. It's functional foods, in both senses.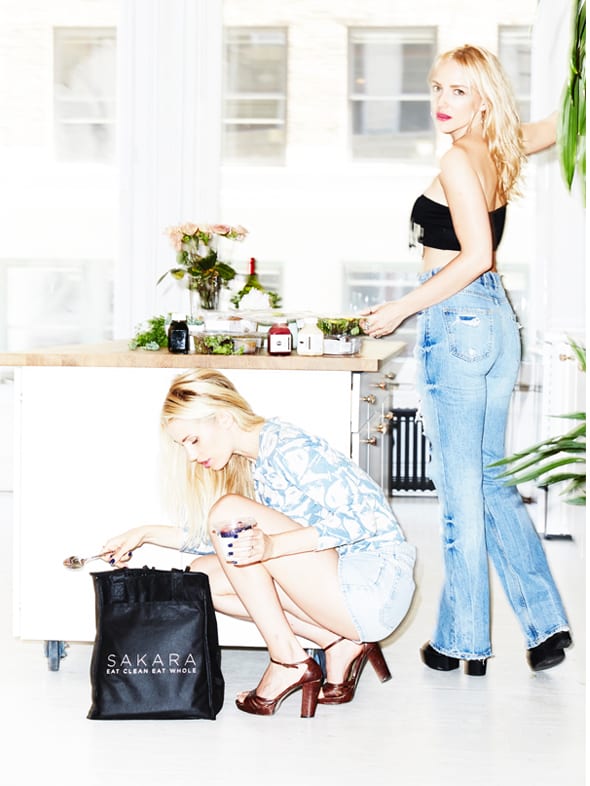 Curious to take a bite? Read ahead as I talk to Danielle and Whitney about what sparked their new business venture, what you'll find in their kitchen cupboards and what's in store for Sakara Life in the coming years…
Hi, both! What made you come together to start a business that delivers healthy food?
Whitney – Sakara was the answer to a problem. Once we moved to NYC we both were fighting individual battles with our health. I had struggled with cystic acne for over 10 years and had tried EVERYTHING. Not even Accutane would work for me. That plus the 15 pounds I had gained working on Wall Street, I felt terrible in my body. Together we tried every quick fix diet out there to try and heal ourselves but nothing worked because none of it was sustainable and none of it was teaching us how to eat for our bodies.
Danielle – I used to feel like food was the enemy. It always made me feel guilty, stressed (counting every calorie), bloated or tired. I knew my relationship with food needed an overhaul, so I went to nutrition school and paired up with my bff to create a food system that would help both of us finally feel like the best version of ourselves again. Eating the Sakara way helped me realize that food is medicine.

Now, let's talk cooking… what are the staple foods in your kitchen you can't live without?
Whitney Tingle – Our Clean Boutique is full of our staple superfoods. You can shop some of our favorites like Spirulina, Black Chia Seeds, Goji Berries, Hemp Hearts, Cacao Nibs, Coconut Flakes, Himalayan Salt, Ashwagandha,Amla, and the list goes on. I swear by hemp seeds! They're full of healthy fats that help keep my skin looking dewy. Plus they're so easy to use- you can put them in anything because they have such a nice, mildly nutty flavor. And I always keep Sakara Superfood Popcorn on hand in case of emergency.
You just launched Sakara in LA… congrats!
Danielle DuBoise – Yes! We just launched Delivery Service to the west coast and The Hamptons, in addition to our current delivery locations including: all five NYC boroughs, select NY, NJ and Connecticut counties, Boston, Providence, Washington DC and Philadelphia.

What does a typical day in your life look like?
Whitney Tingle + Danielle DuBoise – Lacing up our Nikes to endure a morning sweat session, in one of the amazing spaces in NYC that whips our butts into shape and settles our spirits all at once (yes it's possible). Sakara office for breakfast where we catch up on emails and set goals for the day before we very quickly get swept up in meetings, whether with members of our team, potential partners, or other awesome companies in the health + wellness field. We typically both tend to stay pretty late in the office. Once everyone's left and the day has settled we take the time to tap into our creative energies and connect back to the mission of Sakara.
With such a busy schedule, how do you manage to eat so well yourselves?
Danielle DuBoise – Sakara! It has spoiled us so much in the sense that it's hard to find meals out that are as fresh, delicious, and make us feel good. On weekends we like to splurge a little and enjoy some of our favorite spots around the city. Knowing we will have clean, plant-based meals on our doorstep Monday morning makes those late night tacos taste even better.

What would you say has been the biggest highlight of your Sakara journey so far?
Whitney Tingle – When we were GOOP'ed in 2013. For Gwyneth to recognize us as the #1 meal delivery program in NYC was huge because it meant other people out there know of the importance of this work.
Danielle DuBoise – At one of our very first S-Life events I met a client of ours who had been struggling with Lupus for the past few years. She was on a handful of meds, exhausted, unable to focus, in pain, and was contemplating quitting her job because she felt like her body could just not keep up. She found Sakara (or Sakara found her) and after a month was completely off her meds. She was healthy, happy, and GLOWING and we got to be a part of that journey for her. Now we get hundreds of testimonials just like hers. Food IS medicine.
What can we expect to see from Sakara in the future?
Whitney Tingle – Lots of things! Expanding to new delivery locations, new products, hiring new team members, spending more time with our Sakara community, cookbooks and whole lot more! Stay tuned.
And finally, define what 'health' means to you…
Danielle DuBoise – As two people that have gone to extremes with food, we understand the need for quick fixes, easy eats and food on the go and that sometimes eating healthy takes too much time. When you're too busy to worry about your own well-being, then you are out of balance. Living in balance means you take time to be mindful about what you are eating, drinking and thinking. It doesn't have to be perfect but it does have to be thoughtful. Everything in your life has, is and will come from you and your well-being, so it's important to take care of yourself and find balance.
Whether you're lucky enough to live in the parameters of Sakara meal deliveries or not, you can't help but feel the Sakara effect when you have a taste of their highly aesthetic social content. Rosewater donut, anyone?
Instagram: @sakaralifeny
Website: www.sakaralife.com